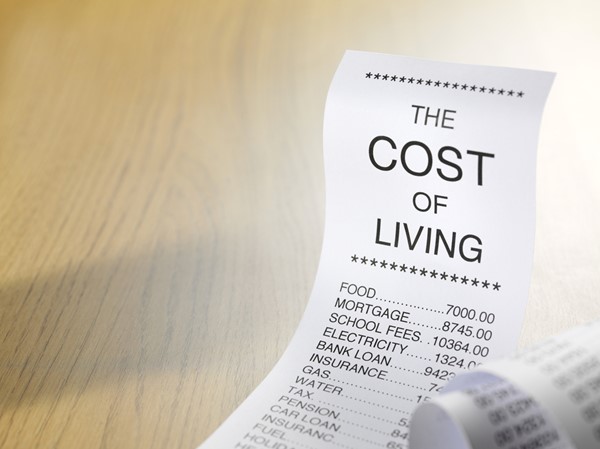 You hear about this magic "cost-of-living index" number, but where does it come from and how can you use it to improve your real estate experience? The cost of living index is a numerical measurement of the relative cost to live in a specific geographic region. There are a lot of economic formulas out there, but it basically adds up and compares the cost of goods and services that are part of ordinary living expenses. These include clothing, utilities, health care, transportation, groceries, restaurants, building materials and more. The index is relative and not an exact measurement, so you always want to compare with the actual cost of living you're familiar with to get an idea of the comparative costs where you want to move.
What's the Math?
To begin, researchers collect a representative sample of goods and services and then compare prices. To determine what goods and services to include in the formula, they use a "typical family budget." When comparing the cost of living, remember that your budget may not be "typical." While they may sound similar, the cost of living index and the consumer price index aren't the same thing.
The Bureau of Labor Statistics sets the consumer price index—and the US government uses it to measure inflation in day-to-day-purchases, changes in interest rates and taxes. To make the CPI and Cost of living index more easily relatable, the CPI now measures housing costs using "owners' equivalent rent" instead of mortgage payments which allows them to remove the investment part of homeownership from the cost of living index and make it more equivalent for renters and owners.
Different companies use different market values and various products and services to make their calculations. One example, the Council for Economic Research, actually divides goods and services into six different categories, then chooses 60 items to represent the whole, gets the prices all at once and uses that to compare costs between locations. 
Other sources take a variety of goods and service cost comparisons and combine them for a broader cost comparison between locations.
The US Department of State provides links to a lot of this information along with some great tools like the "Cost of Living and Salary Comparison Wizard." It combines information on goods, services, real estate, and average salaries to create a short 3-step process: enter your current base salary, the nearest metropolitan area to where you live and work, and the most adjacent metro area to where you want to move. The wizard will spit out not only cost of living comparisons, but what you can or should expect your salary difference to be, and whether that salary will actually be workable in the new area.
How do I Use it?
For example, if you have an annual salary of $50,000 in Dallas, Texas and you move to San Diego, California in a similar position, you can expect a 5.8% salary increase, which brings you to about $53,000. That $3,000 seems like a lot, but now you must look at the cost of living difference between the two areas. According to all these calculators, the average cost of living increase between Dallas and San Diego is roughly 36%. That calculates out to $15,000 less in disposable income. So now you can compare, do you really HAVE $15,000 you can give up in order to move to San Diego? If not, it might just be time to start looking elsewhere or trying to find a San Diego job with a salary of at least $68,000 to maintain the same lifestyle.
What If I Have no Choice?
Sometimes you don't have a choice about moving. Maybe you're being transferred by your company, or you need to be near a school, university or family. If you are stuck moving anyway, use the cost-of-living numbers to help you plan for your new budget and negotiate for a better salary.
Your real estate professional is familiar with the cost of living index for the area, and they will be able to help you find the right place for your budget.