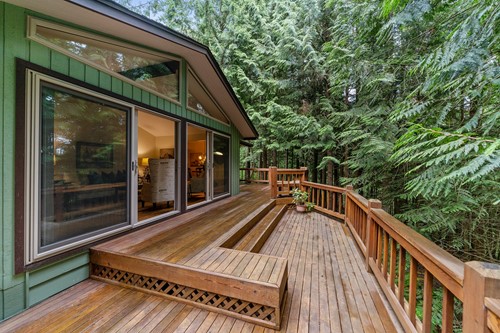 Modern backyards are about more than having space to grow a garden or toss a ball with your kids. Today's yards are designed to be an oasis from the stress and rigors of every day life. They create outdoor living spaces that are ideal for personal use and for entertaining guests.
So, if you are looking to renovate your backyard and create an outdoor living space, you may be trying to decide between a deck or a patio. Here are the key things to consider.
Should You Build a Deck?
A deck is defined as a platform that extends from the house and that is connected to the house but that does not have a roof over it. Many people find that they want a deck on their home so that they can enjoy the view of their property, entertain guests outside and use their yard in a more personal and comfortable way. Here are a few factors that you should consider if you are looking into building a deck:
Decks can be made of a variety of materials. For years, wood decks were very popular, but some found that they did not last as long as they would have liked. Wood decks can be prone to rotting over time, particularly if they are frequently exposed to moisture. In recent years, composite decks have become increasingly popular. These weather-resistant decks are more durable, and they are available in many different colors. Decks also can be created from plastic or aluminum materials.
Decks can be constructed on a home regardless of what the ground is like on the property. If you live on a hilly terrain you may find that an elevated deck is the best option for your home.
Decks tend to add more resale value to a home. In many cases you will see enjoy a 75 percent return on your investment if your purchase a deck.
Should You Pour a Patio?
A patio is a paved area that is often located in a backyard but may not be connected to your home. A patio rests directly on the ground. If you are interested in having a new patio poured in your yard, then these are a few factors that you should consider:
A patio is created with poured concrete. You can opt for a standard concrete patio or a stamped concrete patio which gives you more creative freedom in designing your deck.
Many people find that a patio offers more privacy than a deck. Depending on what you want to use your patio for you may find that you enjoy a more private experience.
A patio is often less expensive than a deck to install and it may last for a longer period of time. Patios also have a tendency to require less maintenance than a deck.
Ultimately, the choice is a personal one and you should select the option that you feel best suits your individual needs as well as best complements your property. Whether you decide on a composite deck that will last for decades or an artistic stamped concrete patio, you will find that you love your yard more than ever and that your property will increase in value.