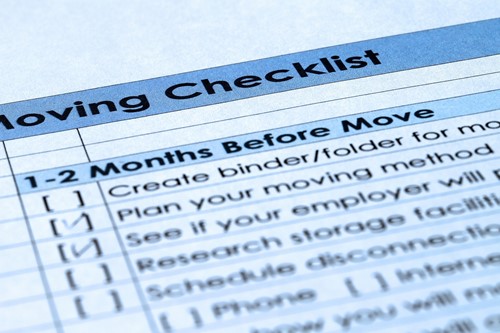 A moving checklist won't take all the stress out of moving, but it can relieve a lot of the pressure once you have everything accounted for. To give yourself a little extra sanity and peace of mind, we'll sketch out what a reasonable timeline should look like. 
8 Weeks Before 
Nearly two months before the move, you should begin going through each room and deciding what you're going to move and what you're going to throw away. You can start calling movers for quotes and ordering everything from bubble wrap to packaging tape.
It's important to keep the daily routine as-is, while still mentally preparing for the move. Start dropping off donation boxes of clothes or goods that won't be coming with you, and organize all of your correspondence in one place so it's easier to keep track of. We recommend having movers visit the home to give their quote as over-the-phone estimates may be unreliable. 
4 Weeks Before 
A month before the move is a good time to start packing up rarely used items, so they're ready to go when the time comes. This is also an opportunity to be even more ruthless with what you take versus what you leave behind. The more you get rid of now, the less you'll have to worry about organizing in the new home.
Start separating out valuables, measuring furniture, and filling out change-of-addresses with everyone from your credit card companies to the DMV. (Never assume a blanket change-of-address form will be valid for all organizations.) Store valuables in a safe, label boxes, and take a deep breath before the home stretch.  
Last Few Days 
Now is the time to get everything in a box besides the absolute necessities (e.g., toothbrushes, etc.) Refill any prescriptions so you aren't dependent on your new local pharmacy processing all of your paperwork immediately.  Defrost the freezer now if you're taking it with you, and tune-up all vehicles so they're ready for the journey.
Create a manifest with everything you're taking and call the movers to confirm the final details. The final days are where things can really start to fall apart, and these are all preventative measures you can take so you're not dealing with a broken-down car filled with boxes on the side of the road. 
Remember that moves rarely ever go according to plan. A moving schedule is dependent on everything from the weather to road conditions. This checklist is really just a way to curtail the possibilities of a major disaster. At the very least, it should help you feel more in control even during the most chaotic parts of the move.