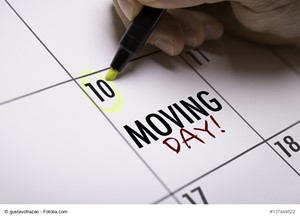 If rain arrives on moving day, there is no need to panic. In fact, there are many quick, easy ways to protect your belongings against rain and ensure that these items can reach your new home without delay.
Now, let's take a look at three tips to help you protect your belongings during a rainy moving day.
1. Park the Moving Truck Close to Your Home
Ideally, you'll want to limit the distance between the moving truck and your house. This will enable you to prevent large amounts of rain from drenching your personal belongings.
You also should try to keep your home's walkways clear on moving day. Because if you're forced to deal with lots of walkway clutter, and lots of rain, it may be tough to carry your belongings from your home to your moving truck.
2. Lay Towels or Blankets Down in Your Home
Let's face it – a rainy moving day likely will cause you and your entire moving day team to walk in and out of your home with wet, muddy shoes. Fortunately, if you lay down towels or blankets in advance, you can reduce the risk of making your floors messy on moving day.
Remember, when it comes to moving, it is always better to err on the side of cause. If you have plenty of towels and blankets at your disposal, you should have no trouble keeping your home's floors clean as you move your belongings into a moving truck.
Don't forget to have extra towels available for your moving team too. That way, all members of your moving team can dry themselves off as needed.
3. Cover Your Furniture
Excess rain can quickly cause substantial damage to chairs, couches and other furniture. Thus, you'll want to cover these items before you move them from your house to your moving truck.
In most instances, covering furniture with moving pads and bubble wrap will help protect your furniture against water damage. Also, you should always ensure that there are no leaks inside of your moving truck to further reduce the risk of property damage due to rain.
If you're uncomfortable moving all of your belongings in the rain, it may be better to postpone your moving day. This will enable you to let the rainy weather pass and resume your move when improved weather conditions arrive.
Furthermore, if you need extra help on moving day, you may want to hire a professional moving company. This business employs friendly, professionally trained moving specialists who know how to move items in any weather, at any time.
Of course, if you need help finding a moving company, you can always contact a real estate agent for assistance. In addition to helping you buy or sell a residence, a real estate agent can help you get in touch with the top moving companies in your area.
Take the guesswork out of a rainy moving day – use the aforementioned tips, and you can streamline the process of transporting your belongings to your new house.